Ever wonder why the Arab nations surrounding Israel have so much disgust over this tiny Jewish country?
A lot of Christian priests, volunteers and pastors who are in a Muslim dominated area are either hurt or killed.
Seldom do the Christians take revenge. One reason – Christ. Christ's love, forgiveness and grace. Although the Jews do retaliate, it's in Moses' Law – "an eye for an eye, a tooth for a tooth".
But in the modern times, the Jews retaliation is mostly done through legal means. An example is when a rocket is fired by Palestinian terrorists, Israel would fire back.
Jews and Christians' are spiritual brothers and sisters. Jews and Christians are under constant danger by the Muslims. Jesus Christ, the father of Christianity was a Jew.
Why do the Muslims have so much hate on the Jews and Christians?
The answer lies in the Koran:
"O you who have believed, do not take the Jews and the Christians as allies. They are [in fact] allies of one another. And whoever is an ally to them among you – then indeed, he is [one] of them. Indeed, Allah guides not the wrongdoing people."
Below is the photo of two British teenagers who happen to be Jews, went to Zanzibar to volunteer in a orphanage for Muslim children.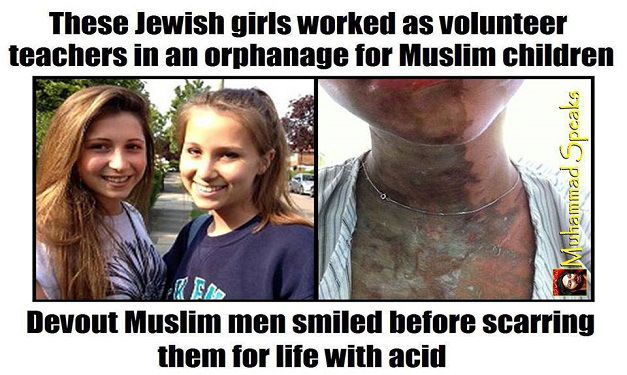 Many politically correct people would view this post as "hate", but it's more like "anger" to the situation that two sisters of mine were hurt just because they're Jews.
Facebook Comments