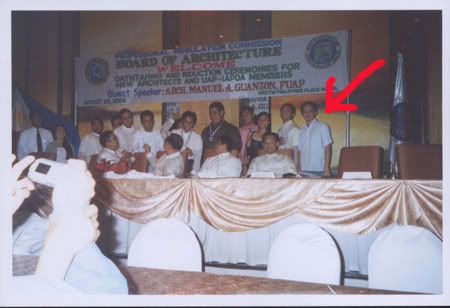 My present profession is web designer, but how did I become a licensed architect?
As long as I can remember I was already scribbling on any paper or surface I could find, be it newspapers, at the back of black and white photographs, my sister's notes and of course, the walls of our house much to the chagrin of my mother.
My family and our neighbors who noticed my "talent" in the visual arts would constantly ask me what I wanted to become when I grow up. I answered "engineer" and at times "architect."
I joined art contests and I won some of them. My supportive parents enrolled me into an art school back in Mindanao.
I immensely enjoyed doing what I love doing. Girls like boys who know how to draw.
In high school, I chose architectural drafting as my elective subject. There were several elective subjects to choose in our school. Most of the girls took up something related to housekeeping. Some boys choose electronics and automotive subjects.
After graduation in high school, I was in a dilemma in choosing which college I would take, Architecture or Fine Arts.
My parents were no longer indirectly supportive of my artistic skills. They wanted me to become a nurse. Mother told I looked good in polo, the usual uniform of nursing students. No offense, but medical courses disgust me.
I asked a friend who was currently in the third year in Architecture. Which one is the best course to take, "Architecture or Fine Arts?"
His reason was architects make a lot of money than fine arts graduates. Hmm, that makes sense, I thought.
I finished architecture in seven years. Architecture is five years. I was not really into it. What I enjoyed the most was the "art" side of Architecture, the mathematics and other scientific subjects bored me.
I officially took oath as an architect in August of 2006. It was a dream that came true nonetheless. But I should have taken fine arts.
A piece of advice from me. Go for the things that you love doing, NOT because it makes lot money. Because you're productive when you do the thing you love doing, and consequently you make a lot of money in the end.